It's been a while since we had one of these, and oh what fun i have watching endless hours of some of the most grotesque, bizarre, and often down right insane acts known to man.
And that is just the RealmanPwns section!
Apart from RM, we have some ups and downs with SexyChris, including a visit from MeNellie and Amy100, and a new life hack, that is nothing short of hilarious.
Throw in some trolling from the grave, and an excellent description of the missing pig, and this is the clips of the week 🙂
Where Is The Missing MichelleStacy?
The last time she went awol, was the time we released her real name, and that time she claimed she had been on a 3 week cruise (lol) even though nothing about a holiday was ever mentioned prior.
But it's been weeks and weeks since she last showed her big fat ugly head. Could it be because of this?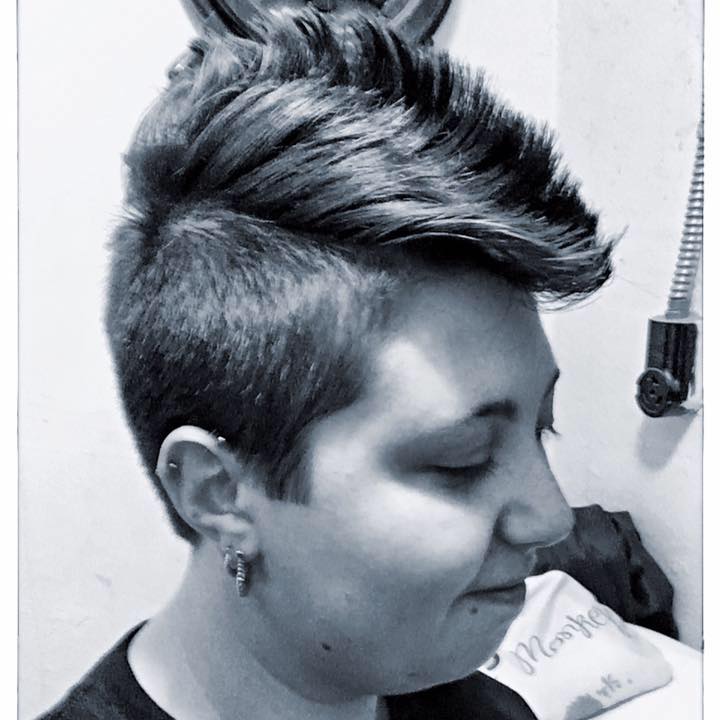 That's the real Michelle by the way. Therese Martinez (aka MichelleStacy) uses her daughters first name, and now she knows we have her whole family ( ex husband, father, uncles etc) maybe she knows there's no way out of this now?
Wonder if she regrets the day she threatened to doxx everybody here?
Hopefully she'll make at least one more appearance, as i am holding back the info that 100% confirms that the doxx we originally gave you is her. But it will be so much sweeter for her to return, claiming it's all the wrong info…then BOOM! 😉
Come out to play Therese, we are all missing you…even Adambro:
JimmyRizzo: Trolled From The Grave.
Who say's Ghosts and spirits don't live on after we pass away?
It certainly seems like Michael Jackson was having some lulz at Rizzo's expense 🙂
Spooky eh?
JimmyRizzo: The Love I Lost.
Staying with Rizzo, it would appear him and GG may just have something going on.
I shit you not!
GG has been missing from VL for ages now, and it seems only Rizzo had the key to her heart after all.
Was that a cryptic message sent to the great bald one? The song "The Love i lost" with GG's picture on it?
Coincidence?
Well that's what i thought at first, but lo and behold, who came back to VL a couple of days later?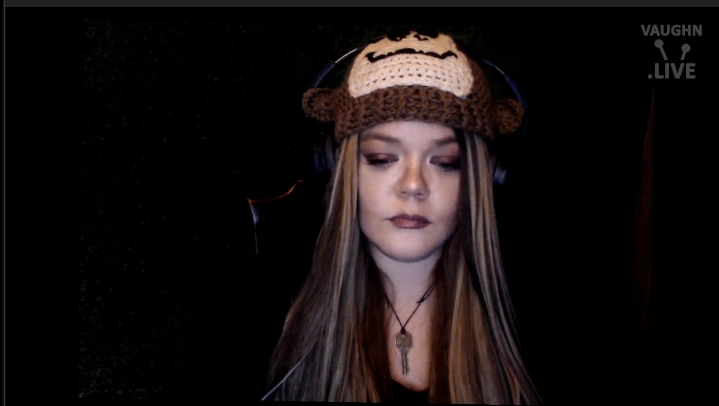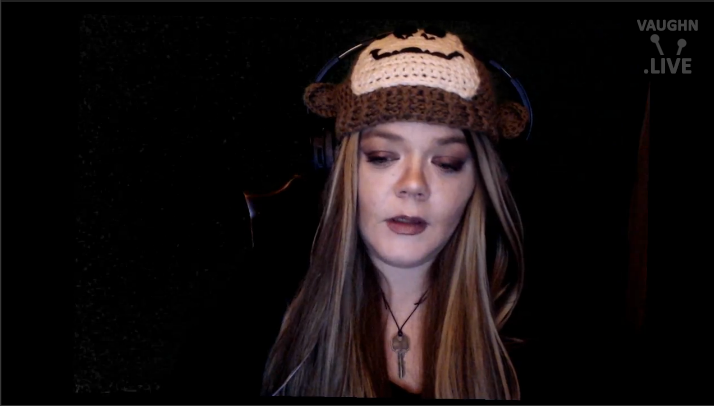 Well stranger things have happened at sea.
When MeNellie Met Chris Part Two:
This week, Barrow's version of Prince Harry met Glasgow's version of Sally, with a little bit of Amy thrown in.
And although it was a bit of a letdown, there was the odd moment of dancing that would make the Village People proud, oh and some fun with a cake…..
Only Chris could decide that hoovering up cake was a good idea…..
SexyChris: Do I Sound American?
Staying with Chris, he decides to show off his language skills as he gives us his American accent impression.
Hmm….not sure about that one Chris.
Now if you had said "who the fuck is MichelleStacy" then you would of had Caine off to a tee.
SexyChris: Life Hack #38
We've seen him do some brilliant, if not down right crazy, life hacks down the years, but i think this one is hilarious, even for him.
All us single men know that cooking and washing pots are the two things we wish we had a woman for.
But wish no longer, the answer has been staring us in the face all the time.
That's right guys, cooking, what cooking? Order a takeaway, leave a day or two, then you have a ready made meal (might be a bit mouldy but hey ho) and washing up? Sod that, eat off the table, put your salt and vinegar on ( pc desks can handle salt no problem) and just like magic, no plates or knives and forks to wash.
Brilliant!
SexyChris: I have Depression you know!
But sadly, it wasn't all dancing, drinking, and gourmet meals for Chris this week.
No, far from it. Listen as he tells us all about his struggle with depression and how hard is life is…for the 20th time….
It must be such a hard life, sitting there drinking day in day out, with Mum and your viewers paying for your drink and gambling habit….on top of the money you get from the DWP.
I don't know how he does it to be honest.
RealmanPwns: Is He Even Human?
I feel a bit bad making this post, because i always have, and still do, like RM. I like him because what you see is what you get, and he's loyal. When the pig threw him under the bus, it would of been easy for him to hit back and confirm her doxx when we showed it him, but despite all the hatred she showed towards him, he stuck by his principles and refused to drop the pig in it.
But oh man,  what happened in his cast the other day is enough to turn the strongest of stomachs.
*Beware, the following images are not suitable if you are eating:
The following pic is the best i could show, as the others will make you puke.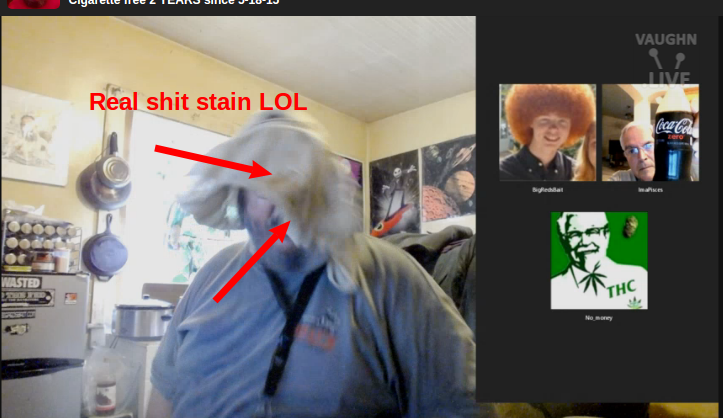 Somebody in the chat asked RM if he had any used underwear, and the next minute, he pulls up these white underpants off the floor, shows what looked like fresh shit stains in them, then placed them over his head.
Trust me when i say the other images would knock you sick.
But it didn't stop there, RM then decided it would be in the community's interest to expose what he calls a toe nail.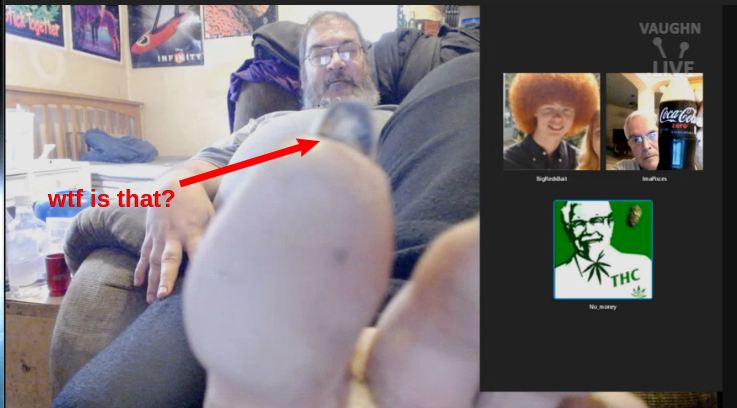 Wanna a close up?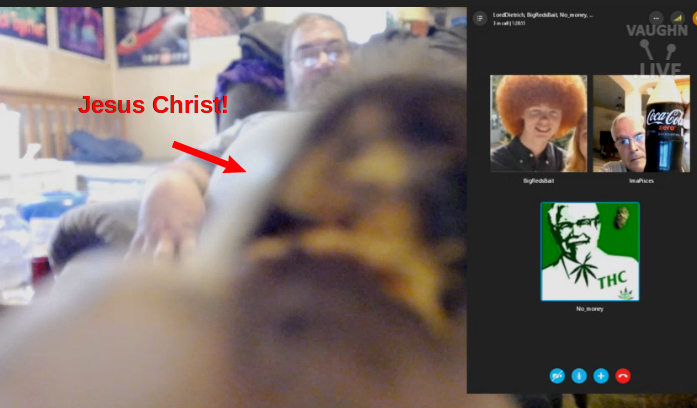 And with that…..
Till next time, take care, be safe, and no matter how bad life seems, remember, there really is somebody out there worse off than you 🙂